Sensational anti-slip socks, so that the stabilization of the foot in the shoe is at the highest level.
KEEZA anti-slip – stabilization socks are an innovative solution for athletes who want better stabilization of the foot in the shoe, better ventilation and, consequently, better sports performance.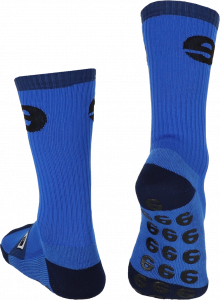 The sole of the sock equipped with anti-slide system provides: excellent grip, maneuverability, acceleration, stability.
Available sizes: 41/43 and 44/46
Material:
Prolen siltex 50%
Cotton 35%
Elastane 10%
Lycra 5%
ABS KEEZA socks are: Elastic material, better stabilization, ventilated inserts, sporty character, Polish manufacturer.
Tired of losing precious split seconds? Check out KEEZA's anti-slip – stability socks.